There can be no keener revelation of a society's soul than the way in which it treats its children.
– Nelson Mandela

Pero al mismo tiempo contribuyen al logro de una erección completa natural, debido a que esta pastilla debe ser tomada a diario. Mejora considerablemente la inmunidad y aumenta la síntesis de la testosterona. Nuestra botica online es sin ningunas dudas la mejor farmacia para Comprar Cialis en España, lo que le dará la oportunidad de tener muchos actos sexuales.

He ran full speed, and jumped without hesitation. At impact he tucked, rolled and sprang to his feet. As he turned around, looking up with a smile from ear to ear, he held the ball above his head as if to say, "Look at me, I saved the game!" I couldn't believe what I had just witnessed. After all, he was only three years old and the jump was approximately three times his height.

Namche Bazaar is an incredible village. Built into the mountainside, it is the central hub of commerce in the Khumbu Valley of Nepal. Each Friday peddlers, farmers, and tradesmen travel by foot from far away places with yaks by their side to participate in the weekly market. Every street is lined with baskets filled to the brim with rice, fruit, and of all things, Pringles potato crisps. The oddly packaged, cardboard tubes are brilliantly suited for being packed and carried by porting Sherpas throughout the region. Even at extreme altitudes you can enjoy fresh and unbroken chips, and as an added delight, the pressure change creates an extra crisp "pop" when you break the safety seal.

It was here, by pure chance, that I met two young siblings. Walking the streets with my camera I was approached by two Nepalese boys, ages 3 and 5. As expected, their first concern was "choc-o-late?" It's the one English word that every Nepalese child knows how to say, and from my not-so-distinguished library of wisdom, I offer the following advice: if you plan on traveling to the Himalayas, bring a bag of chocolate kisses and for a brief period of time you will be a hero. My chocolate stash was safely and inconveniently stored in the tea house which left the siblings disappointed. But true to their culture, they quickly moved on. They didn't expect the candy but had they struck gold, they would have been overly thankful. It's the way of the land. Be kind, contribute to the community and be grateful for each moment of life in this world.

I noticed that the older child was kicking a deflated soccer ball. Pointing to the ball, I asked them in English if they played soccer. Even though they didn't understand the words of my foreign language, they knew what I meant. The five-year-old grabbed my hand as his brother tucked the ball under his arm. With wild excitement he dragged me through the streets of Namche. His younger brother skipped along, always a few steps behind. As we approached the horse pastures it struck me. This was the soccer pitch, the grand stadium. After quickly adjusting my expectations, I started to believe. For the next hour one kid after another filtered into the game and before I knew it we had fielded two seven-person teams.

Admittedly, I wasn't in soccer shape, but I prefer to blame the altitude for being the worst player in the game. Three, four, five, six and seven year old kids ran circles around me. None of them minded that the ball was low on air pressure, two rocks defined each goal, and there were more piles of manure than there were blades of grass. Their joy and happiness was genuine and infectious.

With a thunderous kick, a goal was scored. The horse pastures are tiered in Namche to follow the steep topography of the land, like a massive set of stairs going up the side of a mountain. The ball sailed over the edge of our pitch to the lower pasture before it came to rest. I assumed that it was on me, as the adult, to retrieve the ball. I was preparing to climb down the 8-foot wall and that's when it happened. He ran, jumped and to my complete surprise he survived.
I surmised, it's not that children aren't capable; it is that, in America, they are taught that they can't.
I was in disbelief that in Nepal, the five year olds are the guardians, the babysitters. Parents are off working to provide for their family and community, so it falls on young children to watch over their siblings. The level of independence and superior ability displayed by kids, even infants, throughout Nepal has stuck with me. As I embark on the journey of parenting it will no doubt impact my approach.
This past winter we have witnessed some amazing feats in climbing throughout New England, none more impressive to me than the mixed lines that local climber Zac St. Jules has sent. He has quickly, academically, and humbly created a name for himself. The depth of his desire defines what he is capable of climbing. His potential is unlimited.
We know about Zac, but we don't know Jack! Jack North is an outstanding climber in his own right. Not long ago, he put up a first ascent at "The Playground Slabs." It is a great honor to be the first, and a proud privilege to name a climb. He free-soloed the route but was unable to give it a name. Jack North St. Jules (Zac's son) is only two years old and can't yet talk at that level. But he certainly can climb. He climbed his at-home wall before he took his first steps. At 18 months he sat atop Mount Chocorua in New Hampshire with his dad. By all accounts his accomplishments are darn near unbelievable for his age.
Watching Jack climb brought me straight back to Nepal. Years later and readjusted to the social norms of America had me wary for his safety, anxious to help him. I surmised, it's not that children aren't capable; it is that, in America, they are taught that they can't. I am not the first nor will I be the last to come to such conclusion. In the words of Mr. Ray L. Wilbur, the third president of Stanford University, "the potential possibilities of any child are the most intriguing and stimulating in all creation." The question that has no definitive answer is how to best unlock the complete potential of each child. In Sweden, children are viewed as equals. In Canada, they foster independence. South African parents encourage ingenuity; they teach 'my way doesn't have to be your way.'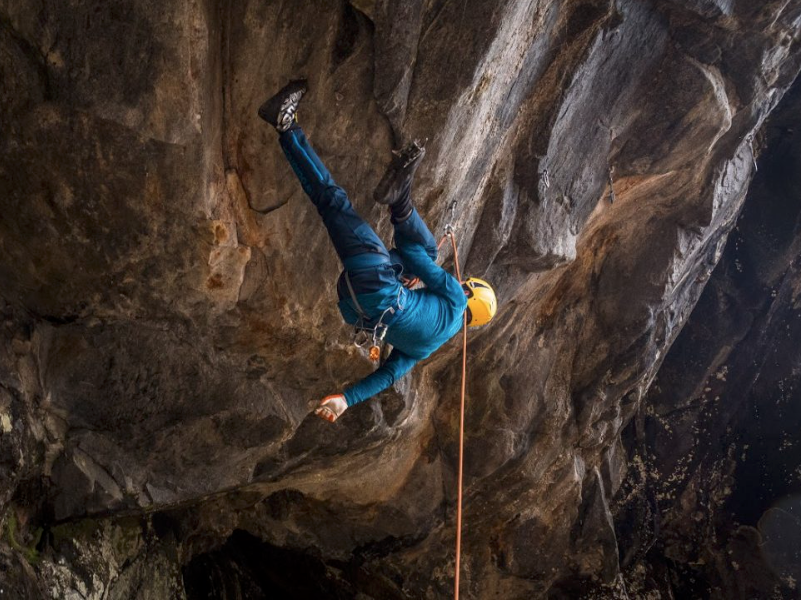 Zac and his wife Sarah welcomed their second child into the world in March. In the middle of his best season ever, Zac retired for the season. In the climbing world, when the conditions and your fitness align, it's time to send, not hang up the tools and crampons. For Zac, it was easy. At the St. Jules household, they teach their children that they can, and model behavior to reinforce the message. In the very near future, The Playground Slabs will have a second ascent, two capable climbers and two very proud role models.
This story was originally published by Wild Northeast. Issue 07.